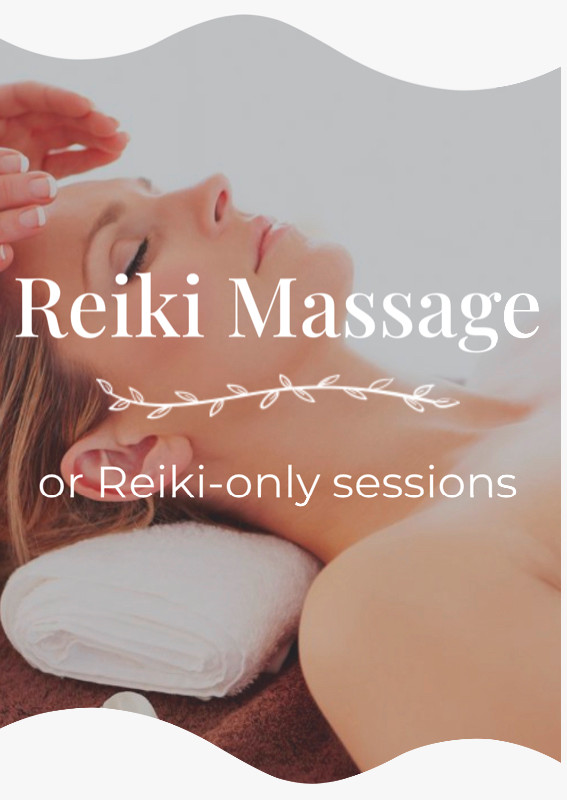 What is a Reiki Massage?
Multi dimensional healing combining both physical and energetic touch, with the option of essential oils to further enhance the overall experience. Elevating and healing for the mind, body, soul and spirit.
The synergy of Reiki and massage enhances the benefits of alleviating stress & tension and decreasing pain by also helping to balance energy systems, restore harmony, and offer greater clarity & insight.
By addressing both the physical and energetic bodies, Reiki Massage offers a more holistic approach, combining the grounding elements of massage with the more ethereal realms of energy work.
Additional Services Offered:
* Relaxation Massage
* Indian Head Massage
* Reflexology Foot Massage
* Reiki Energy Healing
* Pranayama (breathwork) and Reiki
* Chakra Balancing
* Learn Usui Reiki Levels 1-3
My Rates:
$75 for 60min
$90 for 75min
$105 for 90min
$150 for 120min
* Enjoy the option of a heated table, keeping you warm and relaxed throughout.
* Insurance receipts available for Reflexology and Reiki — Registered with NHPC
My studio space is located in the SW community of Killarney
*** Professional Services Only
*** Draping is Mandatory
Appointments can be scheduled by text: (403) 971-1762
You can also book online through my website at www.livinglotushealing.ca
* It is my intention to create an environment that is warm, welcoming, and calm. Music that is curated to enhance the overall experience. Intuitive touch that is gentle, yet strong. Divine healing energy. Nurturing for the mind, body, spirit and soul.
Thank you for reading my ad in its entirety.
I look forward to welcoming you into my healing space.
Namaste,
Tracey
View original article here Source