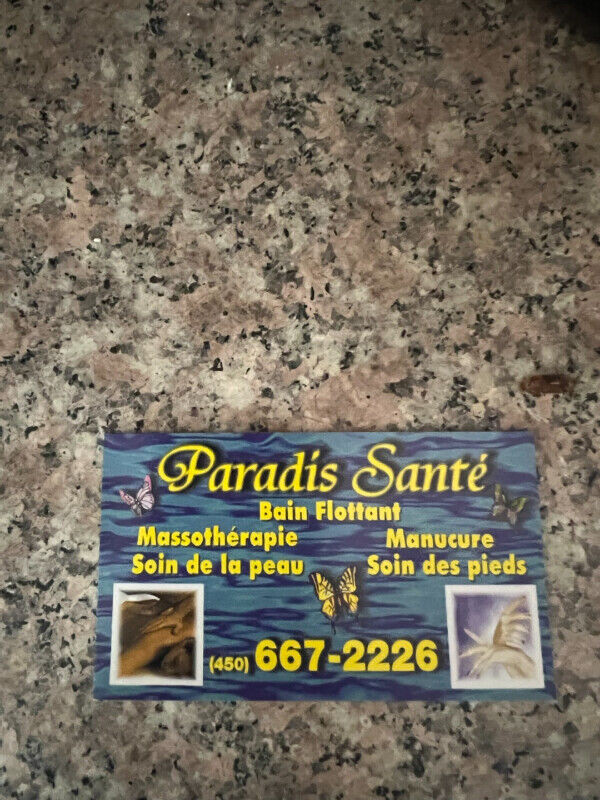 enez dans un environnement calme avec musique relaxante pour vous détendre et expériencer un massage oriental satisfaisant, relaxant et rajeunissant fait pas nos jeunes et belles thérapeutes hautement qualifiés. Elles sont prêtes à vous offrir le meilleur massage. Les hommes, les femmes et les couples sont les bienvenus!
Vous pouvez appeler au 450-667-2226 pour un rendez-vous où tout simplement vous rendre au 128 Boulevard des Laurentides, Laval, Qc, H7G 2T3, où nous sommes ouverts de 9h30 à 23h00 sept jours par semaine! Nous avons aussi un stationnement gratuit.
Tarifs:
60$ par heure
50$ par 45 minute
40$ par 1/2 heure
Nous sommes des masseuses professionnelles enregistrées et nous pouvons fournir des reçues d' assurances au besoin.
Come in a nice smoothing music in a calm environment for you to relax, to experience a relaxing, satisfying and rejuvenating oriental massage from one of our great therapists! Our highly trained young and beautiful oriental lady are ready to provide you with a well done best oriental massage! Man, women and couples welcome!
You can call us at 450-667-2226 for an appointment or just walk in, we're here between 9:30am and 11:00pm every day 7 days a week! 128 Boulevard des Laurentides, Laval, QC, H7G 2T3, free parking, conveniently located in Laval Metro Station Cartier!
$60 per hour
$50 per 45 minutes
$40 per 1/2 hour
We are registered massage therapists and can provide insurance receipts if needed
128 Boulevard des Laurentides, Laval, QC H7G 2T3
450-667-2226
View original article here Source