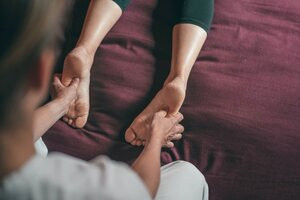 Are you suffering from pain in your feet, injured your achillles , calfs are sore from overworking your legs during work or working out.
You may be experiencing some low back pain .
Working in jobs driving, construction wearing steel toe boats and standing for long periods of time on your feet is placing a severe amount of pressure on your feet.
Don not under estimate the importance of treating yourself to a foot reflexology treatment.
Book a treatment today to feel light in you legs and free from pain and the stress it is placing on the rest of your body.
What is Foot Reflexology?
Reflexology is an ancient therapy that focuses on healing in the body by activating different reflex points found in the feet. Pressing on the different points in the hands and feet causes reflex responses in corresponding parts of the body, which can help promote healing
Your feet is has points connected to your internal organs
Prices :
45 MINUTES $55
60 MINUTES $75
Folllow :
ig@overflowwellnessclub
View original article here Source