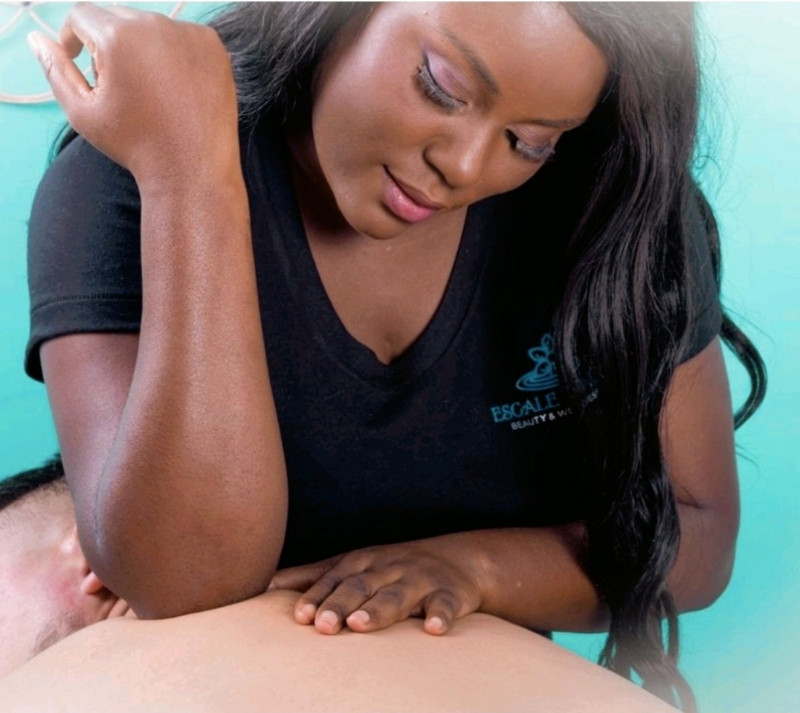 15% off!! Promotion en cours /Current promotion.
NOUVEAUX CLIENTS ! Inscrivez-vous maintenant et recevez 15% de réduction sur votre première réservation !
Une fois que vous vous êtes inscrit et que vous avez créé votre nouveau compte client, demandez notre *code promotionnel nouveau client* dans notre boîte de chat sur notre site web.
https://www.holisticbreakthrough1111.com/
Ou appelez-moi au 1-877-811-4488
______________________
NEW COTOMERS! Sign up now and receive 15% off on your first booking!
Once you have signed up and created your new customer acount, ask for our *New customer promo code* in our chat box on our website
https://www.holisticbreakthrough1111.com/
Or call me at 1-877-811-4488
*English text follows bellow*
—————-
Bonjour, Je m'appelle Marie-Love, je suis Thérapeute Holistique Professionnelle (THP).
Bienvenue à la Holistic breakthrough aussi connue comme Escale Vitalité ! Thérapie esprit-corps-âme / Guérisseur holistique du corps énergétique et corps physiques/ Gatineau – Ottawa
Je suis thérapeute holistique depuis plus de 10 ans maintenant, ma pratique se concentre sur la réhabilitation et la guérison des traumatismes, Qu'ils soient physiques, émotionnels, psychologiques ou spirituels. Les modalités de ma pratique comprennent la thérapie (PET) Psycho-Émotionnelle Therapy, la guérison multigénérationnelle des traumatismes, la déprogrammation des schémas répétetif subconscientes. Je suis également Massothérapeute (RMT) et thérapeute énergétique du corps, et consultant et guide spirituel en bien-être.
La Guérison du subconscients, la conscience de soi cognitive, l'hygiène et la protection énergétiques, les divinations, la thérapie corporelle et bien plus encore.
MASSOTHÉRAPIE
Il existe autant de types de massothérapie qu'il y a de raisons de consulter un/une thérapeute. Un massage peut être un excellent moyen de détendre un esprit ou un corps stressé, tout blessures guérissent plus rapidement lorsque le massage fait partie du traitement. Les besoins thérapeutiques varient d'un jour à l'autre, d'une personne à l'autre, et pour chacun de ces besoins, il existe un type de massage parmi lequel choisir. Avec des variations de pression, de technique, de domaines d'intérêt et de résultat souhaité, le bon choix de technique se traduira par des résultats favorables.
Les types de massage thérapeutique les plus populaires sont le massage des tissus profonds, le massage Hawaiian Lomi Lomi et les massages prénataux. Différents types de massage répondent à différents problèmes de santé. Le massage sportif traite spécifiquement les blessures sportives et les spasmes musculaires tandis que le massage des tissus profonds agit sur les couches profondes du tissu musculaire. La massothérapie peut être classée comme un traitement à pression moyenne visant à détendre les muscles et les tissus tendus. Faire des merveilles pour un corps stressé. Dans l'ensemble, le massage thérapeutique favorise la santé et le bien-être et convient généralement à tous les âges.
Le Lomi-Lome, les pierres chaudes et le massage de relaxation sont considérés comme une thérapie par pressions légères. Bon pour favoriser la circulation sanguine et le drainage lymphatique pour éliminer la toxicité du corps, aide à la mobilité des articulations, diminue l'inflammation et l'enflure et augmente l'amplitude des mouvements.
Pour les futures mamans : pour effectuer un massage en toute sécurité, les mamans doivent réussir leur premier trimestre. Au cours des trois premiers mois de la grossesse, le fœtus n'est pas solidement attaché à l'utérus, et comme la massothérapie augmente la circulation sanguine, cela pourrait entraîner une fausse couche. Demandez toujours à votre médecin si la massothérapie est sans danger pour vous.
• Thérapeutique • Relaxation • Deep-tissue • Sportif-massage • Orthopédique • Hawaiian Lomi Lomi • Californien • Hot-stone. • Prénatal/ Doula • Reiki-massage
Tous émis avec reçu d'assurance massothérapie et kinésithérapie.
Holistic Breakthrough AKA Escale Vitalité Beauty & Wellness Spa – Massage Therapy – Holistic Healing https://g.co/kgs/kQTKgZ
https://www.holisticbreakthrough1111.com/
~~~~~~~~~~~~ENGLISH TEXT~~~~~~~~~~~~~~~~~~
Hi, My name is Marie-Love, I'm a (PHT) Professional Holistic Therapist.
Welcome to Holistic breakthrough AKA Escale Vitalité! Mind-Body-Soul Therapy/Holistic Energetic body Healer/Gatineau – Ottawa
I offer Holistic Psycho-emotional Therapy aimed towards Trauma Rehabilitation & healing.
I am also a ( RMT) Massage Therapist & Energetic Body Therapist, & Wellness Spiritual Consultant and Guide.
I've been A (PHT) Professional Holistic therapist for over 10 years now, My practice focus on trauma recovery and healing ,that they are Physical, Emotional, Psychological or spiritual. The Modalities of my Practice Aimed to heal the root cause of any illness, These modalities includes, (PET) Psycho-emotional therapy, Multi-Generational Trauma Healing, Subconscious pattern Deprogramming,
Cognitive Self-awareness, Energetic Hygiene & Protection, healing, Divinations, Body therapy and much more.
MASSAGE THERAPY:
There are as many kinds of Massage Therapy as there are reasons for visiting a therapist. A massage can be a great way to relax a stressed mind or body, injuries heal faster when massage is part of the treatment. Therapeutic needs vary from day-to-day, person-to-person, and for each one of those needs, there is a massage type to choose from. With variations in pressure, technique, areas of focus and desired outcome, the right choice in technique will result in favorable outcomes.
The most popular types of therapeutic massage are deep tissue massage, Lomi Lomi massage and prenatal massages. Different types of massage address different health concerns. The sports massage specifically addresses sports injuries and muscular spasms while deep tissue massage works on the deeper layers of muscle tissue. Massage therapy can classify as a medium pressure treatment aimed to relax tense muscles and tissues. Doing wonders for a stress-ridden body. Overall, therapeutic massage promotes health and wellness and is usually suitable for all ages.
* Lomi-Lome, Hot-stones and relaxation massage are considered to be a light pressure therapy. Good to promote blood circulation and lymphatic drainage to remove toxicity from the body, helps with joint mobility, decreases inflammation and swelling, and increases range of motion.
For expecting mothers: to perform a safe massage, mothers must pass their first trimester. During the first three months of pregnancy, the fetus is not safely attached to the uterus, and since massage therapy increases blood circulation, this could lead to a miscarriage. Always ask your doctor or physician if massage therapy is safe for you.
• Therapeutic • Relaxation • Deep-tissue • Sportif-massage • Orthopedic • Hawaiian Lomi Lomi • Californian • Hot-stone. • Prenatal/ Doula • Reiki-massage
All issued with massage therapy and kinesitherapy insurance receipt.
Holistic Breakthrough AKA Escale Vitalité Beauty & Wellness Spa – Massage Therapy – Holistic Healing https://g.co/kgs/kQTKgZ
https://www.holisticbreakthrough1111.com/
View original article here Source