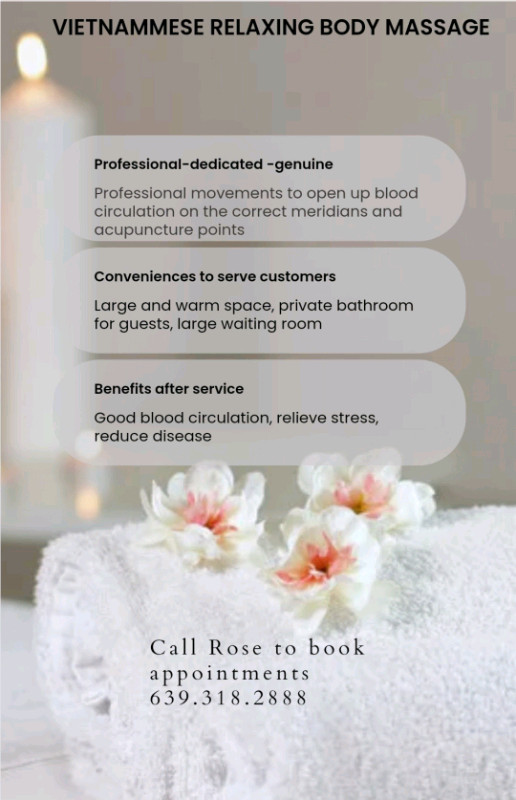 VIETNAMMESE RELAXING BODY MASSAGE
_6393182888
_601b 33rd street West, Saskatoon ( Close Fresh Co)
Similarities and differences between therapeutic massage and relaxation massage.
Massage therapy is massage therapy to solve some unusual problems on the body when you have pain in a certain area of your body. Therapeutic massage therapists will use the knowledge they have learned to emphasize or massage the necessary meridians and acupuncture points to heal injuries on those parts of the body.
Therapeutic massage skills often use strong pressures to press on acupuncture points and most of the time focus on the areas that need treatment.
Relaxing massage is a type of massage to help the body relax when the massager uses their therapeutic knowledge to rotate and gently slide on the meridians throughout the body to opens blood vessels to help blood circulate better throughout the body.
It is very important for a relaxing massager to have knowledge of therapeutic science in order to function properly on the meridians and acupuncture points. Their massage skills must be really slow and continuous to create a feeling of relaxation for the person being massaged.
However, a special thing that makes the success of relaxation massagers is that they must have the skills to utilize their own positive energy from the energy of the universe in perfect connection with the person being massaged in a meditative state. With this perfect combination and transmission, the massage therapist can heal some wounds and create a wonderful feeling of relaxation to release the sorrows from the mental pressures of the client.
I am owner of the business Rex Spa&Studio in Saskatoon. I have spent a lot of time learning about the location of acupuncture points and meridians on the human body in Vietnam. By relaxing Swedish and Vietnamese massage techniques along with the ability to transmit positive energy from myself to acupuncture points and meridians on the client's body to help them truly relax in its meaning.
Many customers expect to experience that service from me. If you really care about it, give me a chance to do it for you. You will come to me more then as what my clients only expect from me.
myself in a meditative state to transmit positive energy from the universe with the spinning and sliding technique on all the acupuncture points and meridians in your body to open them up and help blood circulation better. You will have great moments to relax as I work on you in a warm and beautiful space and in the time after you leave my office. You will sleep very well afterwards and relieve stress if you have.
My hours is from 8:am to 9:pm from Monday to Friday. 8:am to 5pm on Saturday and Sunday.
My price is 75$ for one hour, 95$ for one and half hours and 135$ for two hours.
My address is 601b 33rd street West ( Close to Fresh Co)
Please note that I DO PROFESSIONAL BODY MASSAGE ONLY.
I don't PROVIDE DIRECTLY BILLING because my Certificate was from Vietnam.
Please text me YOUR LAST NAME AND FIRST NAME to book appointments after you get all INFORMATION here.
Thank you and I look forward to seeing you soon!
Rose.
View original article here Source