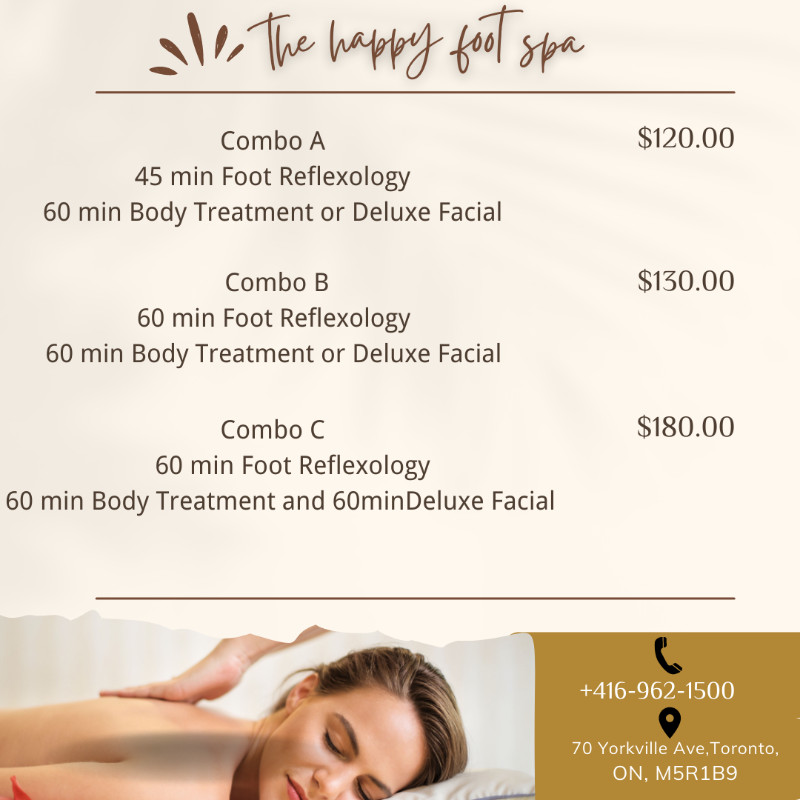 The 10th anniversary discount of the massage spa in Downtown, the original price of $55, now only $45, you can enjoy a half-hour emperor milk foot massage or herbal foot massage
The effect of milk foot bath is to whiten the skin and also improve circulation. Clinically, milk foot soaking is more about nourishing the skin of the feet, which can make the skin on the feet whiter and more tender, soften and remove the stratum corneum, and keep the feet fresh and elegant. In addition, it can reduce inflammation, and can carry out certain treatment for skin inflammation of the feet. The reason why milk can protect the skin is because milk contains a lot of lactic acid, which has the effect of softening and moisturizing.
Medicinal foot bath can improve headaches, promote blood circulation, expel dampness and drive away cold, improve sleep quality, regulate menstruation and warm the palace, improve menstrual abdominal pain, enhance resistance, relieve stress, detoxify beauty, enhance energy, etc.
As long as you do a good anti-epidemic massage, it can also effectively improve your immunity
-Strictly follow the sop-
✅During the epidemic, our store has special personnel to clean all the time!
✅Every week all staff do virus testing
✅Guests and staff must complete vaccinations
Master has more than 5-20 years of technique
The master uses a unique massage method to force out the rheumatism on the body, and stimulate the muscles and meridians, the lymph has reached ⬇️
Blood Blood Circulation Metabolism
Help sleep Help reduce rheumatism Remove heat
Refuse malicious no-shows! Please make sure to make an appointment for your visit time/or you can walk in directly
⏲️Operation time: Monday – Sunday 10.00am to 10:00pm pm
☎️TEL : +1 416 962-1500
Address : 70 Yorkville Ave,Toronto,ON , M5R1B9
View original article here Source