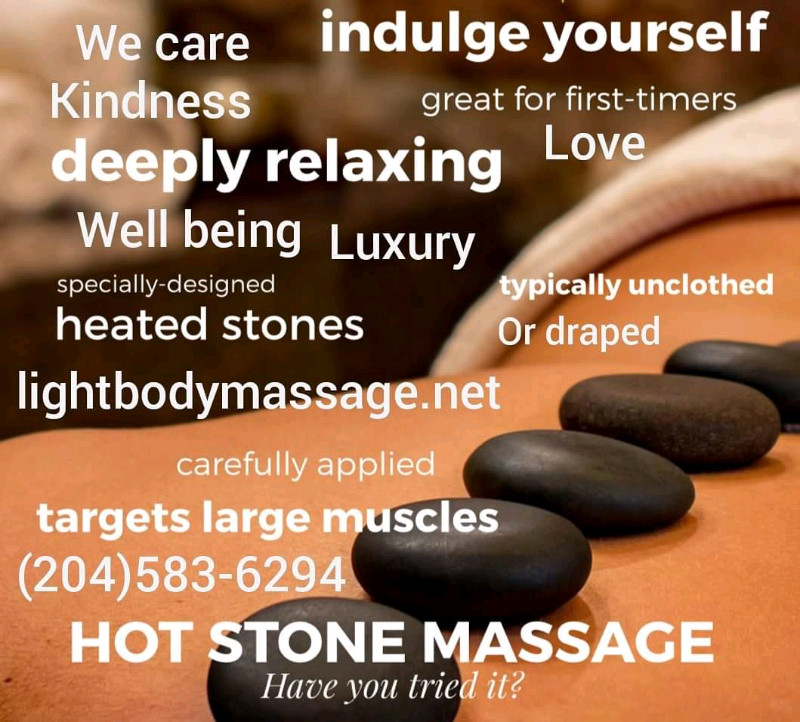 Certified Hot Stone Therapy Practitioner
Masks required thank you
feel real relief
Full body massage
Heat is healing
Harmony is Balance
Heart centered Practitioner Providing basalt stone massage,Jade stone massage or cylinder massage. (204)583-6294
Please let me know the level you like your massage
Light Massage is relaxation.
Providing proper hygiene for massage.
I spray all towels and massage table cover and cradle cover with alcohol.
Your safety is my priority.
I wear a mask through the session
Experienced in removing SCIATIC PAIN and JOINT PAIN.
Experienced in finding and removing pressure points. with the hot stone pressure point release technique.
Better Sleeping Patterns
Another benefit of hot stone massage is it promotes sound sleep. According to studies, this technique has been helpful in improving sleep in insomnia patients. This study also showed that back massage is useful for relaxing your body and promoting a good night's sleep.
arthritis may benefit from a moderate-pressure massage, such as hot stone massage. Participants in the study experienced less pain, greater grip strength, and a greater range of motion after one month of massage therapy. Heat from the stones goes deep into the muscle tissue and it releases muscle tension and pain faster.
Recommend clients schedule 120 minute sessions to get the maximum benefit. THIS IS A REAL MASSAGE not just leaving stones on the back.Please keep in mind this is for those who really enjoy hot stone massage.
View original article here Source